The Digital Day Infographic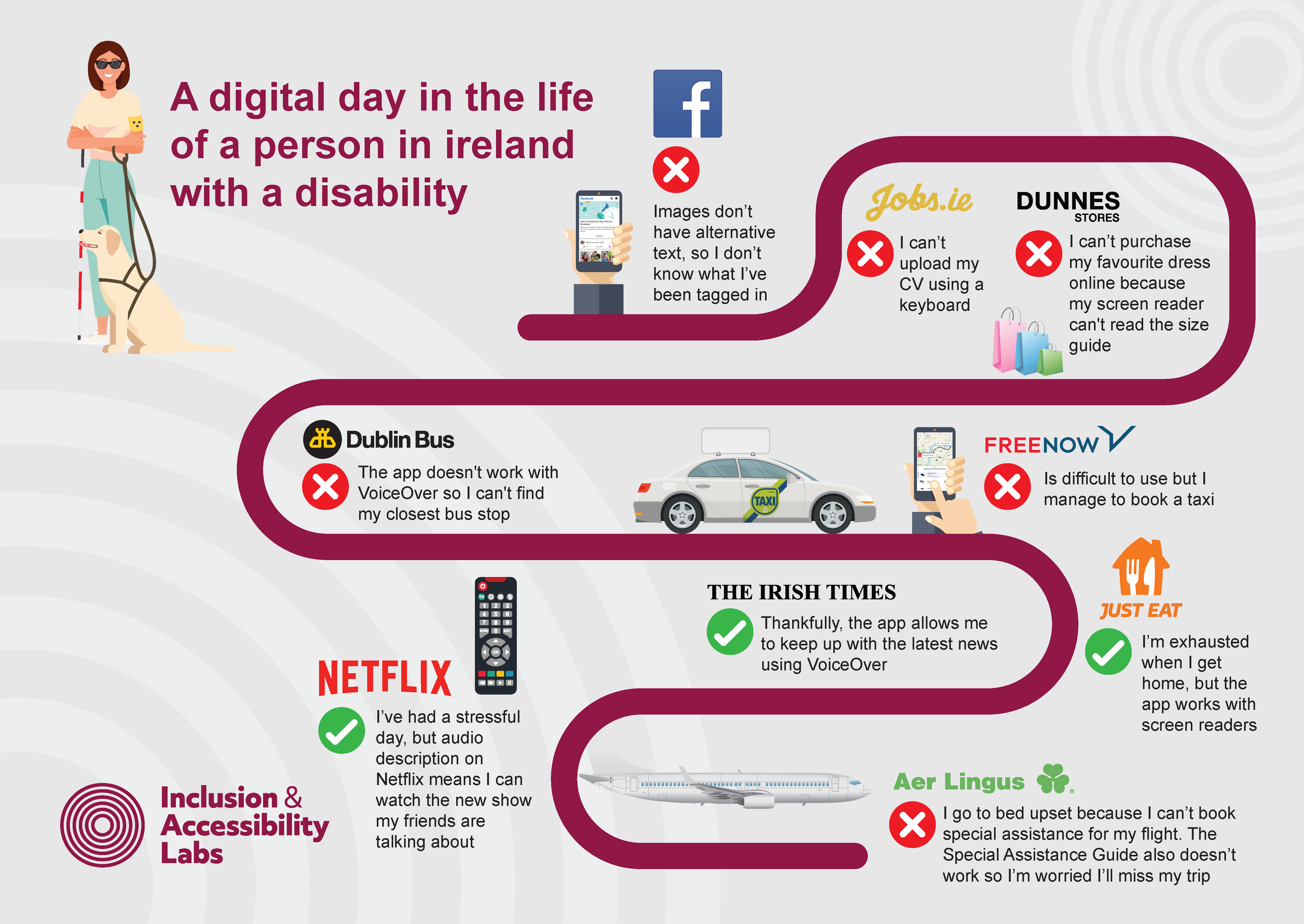 DITL 2022 Alternative Text
A digital day in the life of a person in Ireland with a disability
Image: A woman with sunglasses and a cane holds the lead of her guide dog. She has brown hair and is smiling.
Images: Hand holding up a phone displaying the Facebook home page, and an empty white square.
Images don't have alternative text, so I don't know what I've been tagged in.
Image: Jobs.ie logo
I can't upload my CV using a keyboard.
Image: Dunnes Stores logo, and three shopping bags in different colours.
I can't purchase my favourite dress online because my screen reader can't read the size guide.
Image: Dublin Bus logo
The app doesn't work with VoiceOver so I can't find my closest bus stop.
Images: A silver car with 'Taxi' written on the front door on the right hand side, a screen which shows the homepage of the FREE NOW taxi app, and the Free Now logo
Difficult to use but I manage to book a taxi.
Image: Just Eat logo
I'm exhausted when I get home, but the app works with screen readers.
Image: Irish Times logo
Thankfully, the app allows me to keep up with the latest news using VoiceOver.
Images: Netflix logo, and a TV remote control. It is black with coloured buttons.
I've had a stressful day, but audio description on Netflix means I can watch the new show my friends are talking about.
Images: An airplane, and the Aer Lingus logo
I go to bed upset because I can't book special assistance for my flight. The Special Assistance Guide also doesn't work so I'm worried I'll miss my trip.
DITL 2022 Narration
This morning, Aoife wakes up in a great mood. She turns off her alarm and checks her notifications: one is from Facebook saying she's been tagged in a photo by her friends. Aoife is an avid user of screen reader software and easily uses VoiceOver to navigate to the Facebook app to see which photo she was tagged in.
Unfortunately, her friend forgot to include alternative text when the photo was uploaded. Facebook's automatically generated alt text suggests it is a photo of "two women, possibly outdoors". Aoife sighs and wonders when the photo was taken and who else was in it. She closes the Facebook app and instead opens Messenger, where the keyboard-friendly layout means she can text her friends with no issues.
After eating breakfast, Aoife decides to open her laptop and go to jobs.ie. She is unemployed and has been looking for a new job for months, but is yet to get a response from the 50 different places she has applied to. She wants to work as a secretary because she loves talking to people and has quick typing skills. Using the NVDA screen reader, Aoife searches jobs.ie for any new openings. One listing catches her eye and, excited, she presses the Apply now button. She reaches the part of the page where she can upload her CV, but to her surprise, there seems to be no way for her to attach her CV to the application – the upload CV button doesn't open using only a keyboard.
Aoife isn't ready to give up on her job search just yet. She goes to Public Jobs to see if any state jobs are available. Although the website is a bit clunky and confusing to navigate, Aoife is able to successfully use her keyboard and screen reader to apply for a role.
Aoife is planning to attend her friend's wedding in Spain in three weeks' time. She bought a dress on Dunnes Stores' website last weekend and it arrives with today's post. While she was ordering the dress, she couldn't check the sizing guide on the website because the pop-up window with the sizing guide didn't come into screen reading order. She realises she bought the wrong size when she tries on the dress; she'll have to go to the city centre to return it.
Using the Dublin Bus app, she checks the real-time information for her closest bus stop. If Aoife didn't know the name of her bus stop, she would've had to use the interactive map on the Dublin Bus app to search for it, but the map's incorrect focus order means she can't read the information associated with each bus stop. Luckily, Aoife already knows the name of her bus stop and the routes that pass it.
She finds out her bus will arrive in five minutes. Aoife tries to walk quickly to her stop, but today everyone is emptying their rubbish bins and they block the entire footpath. She is forced to walk slower to ensure she doesn't accidentally run into a bin or knock it over, but this causes her to miss her bus. Frustrated, she checks the Dublin Bus app again, only to discover her next bus won't be for another 30 minutes.
Aoife has too many other tasks to do today and decides she can't wait that long. She tries to book a taxi using the Free Now app instead. It is very difficult to use with a screen reader: when she selects her pickup and dropoff locations, screen reader focus is forced to the main home page of the app and she must navigate back to the booking page again. Eventually, she manages to book her taxi, but the bad user experience makes her decide to avoid using the app in the future.
Aoife returns home later and immediately opens the Just Eat app, wanting to order takeaway for herself as a treat after a long afternoon. She has no issues using the app to order dinner. While waiting for her food to arrive, she checks the Irish Times website on her laptop. She is a regular reader of their articles and catches up on the latest news quickly.
When her takeaway arrives, she settles down with it in her sitting room. Aoife has been well-versed in technology since childhood and owns an Apple TV which has VoiceOver and Siri assistant enabled. She asks Siri to open Netflix and uses VoiceOver to choose a show to watch. Aoife has English audio descriptions turned on by default and finishes two episodes of her current show along with dinner.
After dinner, she opens her laptop again and goes to the Aer Lingus website. She needs to book her flight for her friend's wedding today and searches for round trips to Spain. Aoife can use the NVDA screen reader to choose her flight dates and enter her personal details, but when she decides to add special assistance to her ticket, she discovers the existing assistance options aren't varied enough and the link to the Aer Lingus Special Assistance Guide doesn't work. Hesitantly, Aoife leaves the special assistance option empty for now and continues on to choose her seat and pay for her flight. She resolves to call ahead of time to make sure she can get the assistance she needs.
At the end of the day, Aoife goes to bed a bit upset. She had texted her friends to find out who was in the picture she was tagged in but felt overly reliant on their assistance, since social media is a very basic activity of daily living. More importantly, she can't stop thinking about that job opportunity that so perfectly fit her career plans but she could not even apply. She had spent at least 45 minutes trying to find another way to submit her job application on jobs.ie, but without success.
On a more positive note, she managed to return the dress for her friend's wedding to Dunnes Stores and purchased the right size there, even though it required an unnecessary amount of effort from her part and was a needlessly time-consuming process.
Being a person with a disability in Ireland comes with many challenges and obstacles every single day, because essential activities in daily life – which either require or are supposed to be facilitated by the use of technology – are not inclusive of people with disabilities. That is what Aoife's story is telling us.